Rising energy prices and green energy being significant much more every year, also demand for PV applications increasing rapidly. In order to maintain proper fault-free function and ensure the safety of the PV system according to the standards, surge protection devices are used.
Therefore SPD type 2 for PV/DC applications SLP-PV700 V/Y (S), SLP-PV1000 V/Y (S), SLP-PV1500 V/Y (S) has been modernized, presented with Ucpv 750, 1020 and 1500 V DC.
It offers higher Iscpv value of 10 kA and besides the Czech EZÚ certificate, it has VDE certificate as well available from 01.05.2023 (meets EN 61643-31 standard).
Since 1.2.2023 it replaces the previous types.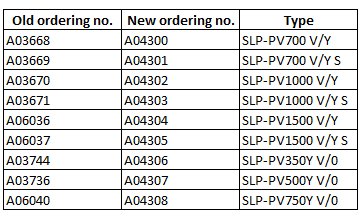 Versions with Ucpv 170 and 500 V DC also available.
The new SLP-PV type 2 range complements innovated FLP-PV type 1 and type 2 range introduced in autumn.
More information about PV solutions.